Notes from the Manager
Related Strips: #298: Adding Injury to Insult; #299: Power Struggles; #300: Something Is Rotten in the State of Denmark; #1039: The Negotiator; #1040: Pay It Forward; #1041: Never Back Down
Kurt and Franklin are, of course, referring to events from waaaay back in Chapter 15 in the final panels here — events that will be expanded upon slightly in any collected editions of the story that might be in the works…
Speaking of which. There are just 69 hours left the Multiplex: The Revenge PBS telethon I mean Kickstarter project… The funding period ends on Friday at 9PM Central!
Since Monday, the Kickstarter project has really rallied, and we're $3,520 away from the goal! That's within arm's reach. In fact, that's roughly how much we've raised in the last 48 hours. But it could still go either way: a huge amount of the pledged funds in the last two days has been due to existing backers increasing their pledges, which is awesome of them — but it is not sustainable growth, either. If you haven't already, please consider backing the project!
In case you missed any of this: in the last few days, I've added your choice of pencils or inks from hand-drawn comics to many of the higher level reward packs… I've released the first chapter from Multiplex: The Revenge (Book Three) for FREE to give everyone a taste of what the books will be like… and I've added new milestone goals in which I'll make new Multiplex movie review comics featuring Jason's reviews of the finest films from Michael Bay's oeuvre — the first of which we've already met! That means Jason will be reviewing The Rock in the near future. Unlocked and posted!
If we reach $22,000 by TONIGHT/WEDNESDAY (July 29) at midnight, I will watch Bad Boys I and II (and create a review comic for each of them) — and we're already just about 1/4 of the way there! Unlocked, and the first one is posted!
If we reach $24,000 by THURSDAY (July 30) at midnight, I will watch all four Bayformers movies and do a movie review strip for each movie! Or maybe one four-page movie review. It'll be four pages, anyway. (I've seen 1–3 before, but I will rewatch them, because I am an ethical movie reviewer. Even when I'm writing fictional movie reviews.) Unlocked!
See you Friday!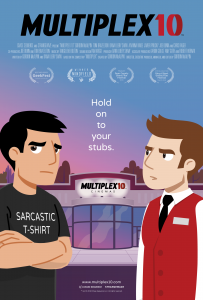 Multiplex 10 is here!
Although Multiplex 10 has ended, an animated prequel/reboot called Multiplex 10 was funded through Kickstarter in 2017 and is NOW AVAILABLE for rent or purchase on Vimeo On Demand, Amazon Video, and elsewhere! And an all-new, irregularly-updated Multiplex 10 web series (set after the short film) recently launched on YouTube! Learn more about the web series on the official Multiplex 10 website!
Stay up to date on all things Multiplex, Multiplex 10 and me (a.k.a. Gordon McAlpin) by subscribing to my newsletter!