Multiplex: The Last Reel
Book Nine
Chapters 39–42 (August 2015–April 2017)
Jason and Kurt take on Feature Cinemas, and the fate of the Multiplex 10 hangs in the balance!
Learn more about the collected editions!
Chapter 39
August 2015–January 2016
Jason and Kurt make new allies.
Chapter 40
January 2016–May 2016
Kurt rallies the troops.
Chapter 41
May 2016–January 2017
The fate of the Multiplex 10 is decided.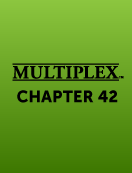 Chapter 42
February 2017–April 2017
One final day at the Multiplex 10 Cinemas.