Notes from the Manager
True facts! The premise being impossible isn't the worst of The Martian's problems, though. It doesn't bother me at all. What does drag down The Martian just a bit is that despite Drew Goddard being the sole credited screenwriter, the movie feels kind of spoon-fed to me at every turn. As a hard (as in realistic) science fiction nerd and gets tired of how science gets portrayed in too many movies, there's still a lot for me to love about The Martian, but constant exposition pulls me out of a movie.
If Ridley Scott ever has an itch to make an hour longer, more pensive cut of the film, though, I'm so there.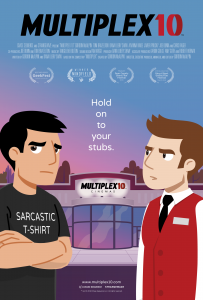 Multiplex 10 is here!
Although Multiplex 10 has ended, an animated prequel/reboot called Multiplex 10 was funded through Kickstarter in 2017 and is NOW AVAILABLE for rent or purchase on Vimeo On Demand, Amazon Video, and elsewhere! And an all-new, irregularly-updated Multiplex 10 web series (set after the short film) recently launched on YouTube! Learn more about the web series on the official Multiplex 10 website!
Stay up to date on all things Multiplex, Multiplex 10 and me (a.k.a. Gordon McAlpin) by subscribing to my newsletter!