Multiplex: The Revenge
Book Three
Chapters 11–15 (March 2008–March 2009)
Includes #s 217–338. Jason and Angie get serious. Flickhead Video and the Multiplex 10 face off!
Learn more about the collected editions!
March 2008–June 2008
Angie and Jason start kind of flirting.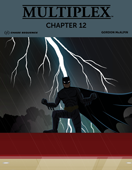 June 2008–August 2008
Chase comes out. Melissa tries to get even with Kurt. The theater almost gets robbed.
August 2008–October 2008
Melissa finally gets even. The Flickhead–Multiplex rivalry reaches a fever pitch.
October 2008–December 2008
Franklin gets fired, and the Flickhead–Multiplex tournament concludes.
December 2008–March 2009
Gretchen gets her comeuppance.