Notes from the Manager
Related Strips: #110: The Great Unifier; #275: Death Race, Part One; #276: Death Race, Part Two; #277: Death Race, Part Three; #278: Death Race, Part Four; #279: Death Race, Part Five; #280: Are You Ready for Some Football?; #281: If I Don't Like It, No One Can
If you don't pay attention to these sorts of things, Frumph.net is holding the Webcomics Readers Choice Awards right now, and they're currently in the voting stages. Multiplex's very own Angie Kurokami was nominated as "Best Supporting Character," so if you love Angie, please do go and show her your support! If she wins, I will do an (out of continuity) strip featuring Angie's acceptance speech!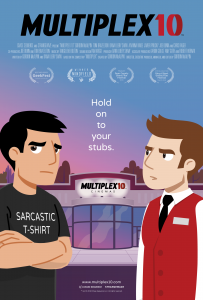 Multiplex 10 is here!
Although Multiplex 10 has ended, an animated prequel/reboot called Multiplex 10 was funded through Kickstarter in 2017 and is NOW AVAILABLE for rent or purchase on Vimeo On Demand, Amazon Video, and elsewhere! And an all-new, irregularly-updated Multiplex 10 web series (set after the short film) recently launched on YouTube! Learn more about the web series on the official Multiplex 10 website!
Stay up to date on all things Multiplex, Multiplex 10 and me (a.k.a. Gordon McAlpin) by subscribing to my newsletter!