Notes from the Manager
Related Strips: #275: Death Race, Part One
Three updates this week, all hand-drawn. See you on Wednesday and Friday.
To draw these pages, I draw and redraw thumbnails until I have a good idea of the basic layout, then create the panel borders in Illustrator. I lightbox the borders onto Bristol drawing paper, then pencil in the panels loosely with dark blue Colerase pencils. I find the light blue/non-photo blue ones too hard to see. I tighten up the pencils where needed with a regular 2H lead (although I suppose I could just use a different Colerase color) before moving on to inking.
I inked this page with a crow quill, because I'm only working at about 8.25" x 10.5" — not much larger than actual size. The bright white spots and the pitch black art show where I've done a bit of digital retouching. For instance, the shadows below the fronts of the karts and most of the checkered pattern on the sides of the karts were added in Photoshop, simply because I forgot to pencil them in the first time around. And the drawing of Kurt in the final panel was composited in from a different page, because I screwed him up the first time.
You can see panels 1–3 from this page over at my Flickr page. I inked those panels with a brush, because the figures were larger. If you compare the scan to the final panel, you'll see that I fixed Franklin's wonky eye digitally. Even when I work "traditionally," I do a lot with a computer.
You can also see a preliminary sketch of Kurt in his kart over at my LiveJournal.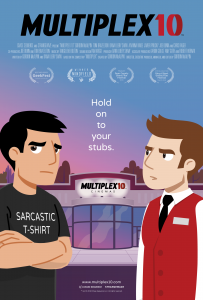 Multiplex 10 is here!
Although Multiplex 10 has ended, an animated prequel/reboot called Multiplex 10 was funded through Kickstarter in 2017 and is NOW AVAILABLE for rent or purchase on Vimeo On Demand, Amazon Video, and elsewhere! And an all-new, irregularly-updated Multiplex 10 web series (set after the short film) recently launched on YouTube! Learn more about the web series on the official Multiplex 10 website!
Stay up to date on all things Multiplex, Multiplex 10 and me (a.k.a. Gordon McAlpin) by subscribing to my newsletter!