Notes from the Manager
Related Strips: #139: Rage! Redux!; #190: Afraid to Dye; #244: Strangers in the Night, Part One; #245: Strangers in the Night, Part Two; #249: Lift Your Skinny Fists Like Antennas to Heaven; #254: Two-Faced; #261: Smooth Criminal; #262: Real Genius; #263: Quick Thinking
This strip was originally posted as a TopWebComics vote incentive, last Thursday.
Now that Multiplex and WOWIO have parted ways, you can now read the first (and only, so far) Multiplex eBook for FREE in the Extras section, or by clicking here. You can read it online in your web browser thanks to Issuu. You can even read it full-screen! No registration, no downloads, no hassles — just comics. Essentially, it's just a different (better, in my opinion) way of reading through the first 24 strips from the archives, and with added material as well.
You cannot download the free Online Edition, but the High Definition Edition is still available for purchase, for those hardcore fans who want the highest-quality reproduction possible.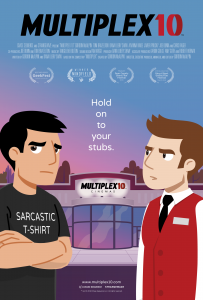 Multiplex 10 is here!
Although Multiplex 10 has ended, an animated prequel/reboot called Multiplex 10 was funded through Kickstarter in 2017 and is NOW AVAILABLE for rent or purchase on Vimeo On Demand, Amazon Video, and elsewhere! And an all-new, irregularly-updated Multiplex 10 web series (set after the short film) recently launched on YouTube! Learn more about the web series on the official Multiplex 10 website!
Stay up to date on all things Multiplex, Multiplex 10 and me (a.k.a. Gordon McAlpin) by subscribing to my newsletter!