Notes from the Manager
Related Strips: #139: Rage! Redux!; #190: Afraid to Dye; #244: Strangers in the Night, Part One; #245: Strangers in the Night, Part Two; #249: Lift Your Skinny Fists Like Antennas to Heaven; #254: Two-Faced
Sorry the strip was late!
I've had a hell of a week. My car got hit (for the second time in three weeks), and I've had this bizarro allergic reaction to I don't even know what. Or at least that's what my doctor thinks it is. I'm fine, but it wasn't the best week to do a 17-panel strip, that's for sure.…
The three guys on the left side are just a few of the Multiplex 10 employees we haven't met before. I've explained this in the forums a few times: a ten-theater multiplex would have roughly 40 employees (including managers and cleaning staff) and a hell of a lot of turnover, so I'm really kind of overdue for introducing faces in the background that we won't get to know well — if at all.
See you Monday!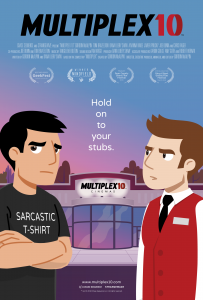 Multiplex 10 is here!
Although Multiplex 10 has ended, an animated prequel/reboot called Multiplex 10 was funded through Kickstarter in 2017 and is NOW AVAILABLE for rent or purchase on Vimeo On Demand, Amazon Video, and elsewhere! And an all-new, irregularly-updated Multiplex 10 web series (set after the short film) recently launched on YouTube! Learn more about the web series on the official Multiplex 10 website!
Stay up to date on all things Multiplex, Multiplex 10 and me (a.k.a. Gordon McAlpin) by subscribing to my newsletter!