Notes from the Manager
Related Strips: #185: Considering the Source; #217: Live and Learn, Part One; #218: Live and Learn, Part Two; #223: Gaybait and Switch; #236: You Took the Word Out of My Mouth; #247: What Have I Done?
WALL•E was absolutely brilliant, and Wanted was really fun, too. It was a good weekend for nerd movies. Listen in as Joe, Tom and myself chat it up about the two big box office winners this weekend on The Triple Feature, tonight at 9:00pm Central!
UPDATE (7/1): I am now a pundit. Kwanzoo's Steve Anderson (also of The Anderson Files and Reel Advice) has just posted an article called (and about) "The Death of Cinema: I Am Not Alone Here," with sound bites from yours truly and fellow Triple Feature host Joe Dunn (of Joe Loves Crappy Movies, natch).
Joe missed the Triple Feature last night, but Tom Brazelton (Theater Hopper) and I sounded off — spoiler-free — about WALL•E, Wanted, and Wizard World Chicago in a special, sorta-short episode. Check her out by clicking on the "Listen to the Triple Feature" button over in the sidebar!
Next week, we'll only have Hancock to talk about, so we'll probably get back into WALL•E and Wanted (with spoilers) again. WALL•E, of course, was absolutely fantastic.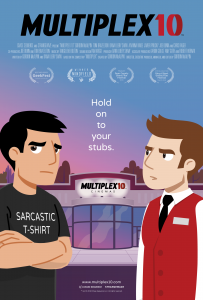 Multiplex 10 is here!
Although Multiplex 10 has ended, an animated prequel/reboot called Multiplex 10 was funded through Kickstarter in 2017 and is NOW AVAILABLE for rent or purchase on Vimeo On Demand, Amazon Video, and elsewhere! And an all-new, irregularly-updated Multiplex 10 web series (set after the short film) recently launched on YouTube! Learn more about the web series on the official Multiplex 10 website!
Stay up to date on all things Multiplex, Multiplex 10 and me (a.k.a. Gordon McAlpin) by subscribing to my newsletter!