Notes from the Manager
Related Strips: #319: Who Let the Drama Out?; #320: Bad Week for Geeks
If you're confused right now and panel 7 didn't make it clear enough: yes, Jason can read.
Here's a little more detail on the Veronica Mars movie that might be happening. Strong emphasis on might.
By the way, if you missed Monday night's Triple Feature (#107), I was remiss in not promoting it, but Joe, Tom and myself went through our "Top 10 Favorite Movies of 2008." You can listen to our commentary about our lists and the films in the extra-long edition of the podcast, but here was my list:

The Wrestler
WALL•E
In Bruges
Milk
Man on Wire
Iron Man / Incredible Hulk (tie, and yes, I know I was cheating)
Kung Fu Panda
JCVD
Forgetting Sarah Marshall

Son of Rambow
Runners Up: The Dark Knight; Slumdog Millionaire; Let the Right One In; The Counterfeiters; Synecdoche, NY
Before any of you get all mad and yell at me for not including __________ in my list, it's my opinion, and I know my taste is a little peculiar. There's a reason we call them "our favorite movies of 2008," not "the best movies of 2008." So nyeah.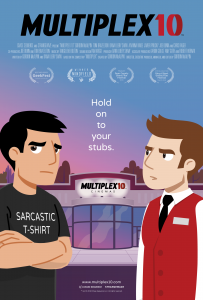 Multiplex 10 is here!
Although Multiplex 10 has ended, an animated prequel/reboot called Multiplex 10 was funded through Kickstarter in 2017 and is NOW AVAILABLE for rent or purchase on Vimeo On Demand, Amazon Video, and elsewhere! And an all-new, irregularly-updated Multiplex 10 web series (set after the short film) recently launched on YouTube! Learn more about the web series on the official Multiplex 10 website!
Stay up to date on all things Multiplex, Multiplex 10 and me (a.k.a. Gordon McAlpin) by subscribing to my newsletter!