Notes from the Manager
I'm going to try for another strip on Friday (hence the Wednesday update), buuut it might just end up being an extra-long Monday strip.
In the mean-time, complain about the new hairstyles in the Multiplex Forum!
You can see a trailer for House Bunny over at Apple. I enjoyed House Bunny, by the way. It's not a new comedy classic by any stretch of the imagination (perhaps it would have been if the writers — who previously penned Legally Blonde — had, you know, stretched their imagination a little bit more), but Anna Faris is always terrific, delivering mediocre lines so spot-on that it actually makes them funny… and it sure doesn't hurt that there's a lot of eye candy in the movie, despite the excess of slut-gear. (And yet, the screening I went to was almost entirely girls.)
For more on my thoughts (as well as Tom and Joe's) about the movie, check out episode #87 of The Triple Feature.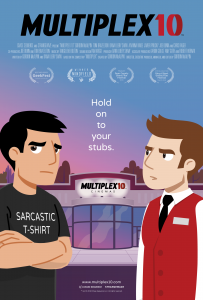 Multiplex 10 is here!
Although Multiplex 10 has ended, an animated prequel/reboot called Multiplex 10 was funded through Kickstarter in 2017 and is NOW AVAILABLE for rent or purchase on Vimeo On Demand, Amazon Video, and elsewhere! And an all-new, irregularly-updated Multiplex 10 web series (set after the short film) recently launched on YouTube! Learn more about the web series on the official Multiplex 10 website!
Stay up to date on all things Multiplex, Multiplex 10 and me (a.k.a. Gordon McAlpin) by subscribing to my newsletter!