Notes from the Manager
Related Strips: #268: Old School, Part One
For those of you not from Chicago, it's been hinted at before, with things like a Chicago Tribune in the background of a panel or an 847 area code mentioned in another strip, but this strip makes it fairly explicit: the Multiplex 10 in located in an unnamed (fictional) suburb of Chicago, on the north side.
Bronzeville and Rogers Park are (real) Chicago neighborhoods, and the Regal Theater and the Granada Theatre are — or rather were — real Chicago theaters, both designed by Edward Eichenbaum of Levy & Klein (Eichenbaum also designed the Century Theatre, formerly the Diversey, although only its façade remains standing). The Regal, in particular, was a cultural cornerstone of black Chicago for the four decades it was in business… which I'm sure James will talk about in time.
TopWebComics has the same hand-drawn sketch of Jason and Becky done for Jackson Ferrell that I posted the other day. (He had requested the two hanging out in their civilian clothes.)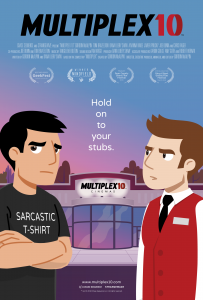 Multiplex 10 is here!
Although Multiplex 10 has ended, an animated prequel/reboot called Multiplex 10 was funded through Kickstarter in 2017 and is NOW AVAILABLE for rent or purchase on Vimeo On Demand, Amazon Video, and elsewhere! And an all-new, irregularly-updated Multiplex 10 web series (set after the short film) recently launched on YouTube! Learn more about the web series on the official Multiplex 10 website!
Stay up to date on all things Multiplex, Multiplex 10 and me (a.k.a. Gordon McAlpin) by subscribing to my newsletter!