Notes from the Manager
Related Strips: #312: The Reader
I didn't post the over-the-weekend update that I'd planned (sorry), so here that is, and there will be two more strips this week — on Wednesday and Friday — although Wednesday's will finish off this scene with Becky, Jay and Jason. See you soon.
The Triple Feature is taking a break this week, so we can catch up on all of the movies for a gala End of 2008 show the following week (…yes, in 2009). Movie buffs like myself, Tom, and Joe always have a heck of a time trying to watch as many of the end-of-year releases as possible, especially with so many awards contenders coming out in the last two weeks of December every year. So far in my own end-of-year movie marathon, the highlights have been The Wrestler (out now in a good chunk of the country), and two documentaries, Man on Wire and Up the Yangtze (both out now on DVD).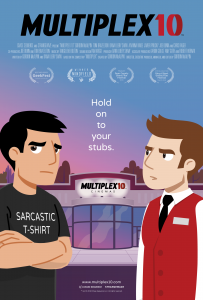 Multiplex 10 is here!
Although Multiplex 10 has ended, an animated prequel/reboot called Multiplex 10 was funded through Kickstarter in 2017 and is NOW AVAILABLE for rent or purchase on Vimeo On Demand, Amazon Video, and elsewhere! And an all-new, irregularly-updated Multiplex 10 web series (set after the short film) recently launched on YouTube! Learn more about the web series on the official Multiplex 10 website!
Stay up to date on all things Multiplex, Multiplex 10 and me (a.k.a. Gordon McAlpin) by subscribing to my newsletter!