Notes from the Manager
Those of you with Multiplex: Enjoy Your Show and Multiplex: There and Back Again may recognize the names Hilary, Katy, and Sanjay — but even then, I doubt it. They each appeared in a handful of strips that I added into the print books to help flesh out the size of the staff. I've said this many times, but a 10 theater movie theater would have approximately forty employees — and with the turnover in low-wage jobs, over the last ten years, there would have been dozens and dozens of employees that you've never met.
As a reminder, Book Three — a.k.a. Multiplex: The Revenge — has fallen behind schedule because of a too-big-to-refuse freelance project that then proceeded to nearly triple in size. So, thank you once again for you patience — particularly Kickstarter backers and Patreon patrons.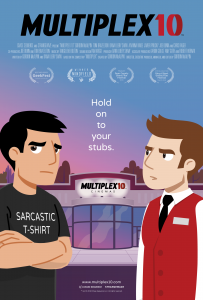 Multiplex 10 is here!
Although Multiplex 10 has ended, an animated prequel/reboot called Multiplex 10 was funded through Kickstarter in 2017 and is NOW AVAILABLE for rent or purchase on Vimeo On Demand, Amazon Video, and elsewhere! And an all-new, irregularly-updated Multiplex 10 web series (set after the short film) recently launched on YouTube! Learn more about the web series on the official Multiplex 10 website!
Stay up to date on all things Multiplex, Multiplex 10 and me (a.k.a. Gordon McAlpin) by subscribing to my newsletter!