Notes from the Manager
Welcome to the final chapter of the final book of the third and final act of Multiplex. I'm not sure how long this chapter will go yet, but it will all take place on one day—Tuesday, November 1, 2016, the first day of the new Multiplex 10 Cinemas.
Not everything in the last several or so years has played out quite how I expected it to, based on the outline I made roughly seven years ago, but it came pretty close. And for the most part I'm very happy with the results. Those of you who have stuck with the strip for that long (or nearly that long), I hope you feel the same way.
This final chapter is very much an epilogue to the strip, so… you know, don't expect too much in the way of drama. But there will be laughs and feels.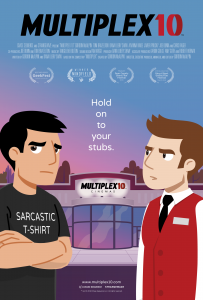 Multiplex 10 is here!
Although Multiplex 10 has ended, an animated prequel/reboot called Multiplex 10 was funded through Kickstarter in 2017 and is NOW AVAILABLE for rent or purchase on Vimeo On Demand, Amazon Video, and elsewhere! And an all-new, irregularly-updated Multiplex 10 web series (set after the short film) recently launched on YouTube! Learn more about the web series on the official Multiplex 10 website!
Stay up to date on all things Multiplex, Multiplex 10 and me (a.k.a. Gordon McAlpin) by subscribing to my newsletter!