Notes from the Manager
Related Strips: #1083: Respect My Authoritah!
http://www.nooooooooooooooo.com is one of the most useful websites ever built.
This news may not be accurate, but it has made some headlines because of this Reddit post. (Hat tip to Carolyn Murphy for pointing me at the post.)
UPDATE: Thanks to a theater employee who shall not be named, I've now seen the actual letter from Disney and fudged the script to match it. (Disney is forbidding employee screenings but allow "one or two people" for a tech screening, which can be done in advance of the Thursday 7pm release.)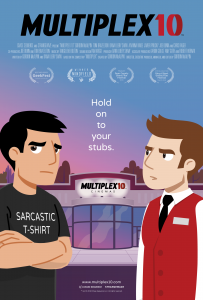 Multiplex 10 is here!
Although Multiplex 10 has ended, an animated prequel/reboot called Multiplex 10 was funded through Kickstarter in 2017 and is NOW AVAILABLE for rent or purchase on Vimeo On Demand, Amazon Video, and elsewhere! And an all-new, irregularly-updated Multiplex 10 web series (set after the short film) recently launched on YouTube! Learn more about the web series on the official Multiplex 10 website!
Stay up to date on all things Multiplex, Multiplex 10 and me (a.k.a. Gordon McAlpin) by subscribing to my newsletter!