Notes from the Manager
Ta-dah! New website, sort of. With some help from my User Experience consultant -- a.k.a. my friend Taylor Regan of UXInvestigations -- I whipped up a new face for the Multiplex site. A lot of it is still more or less the same, but the site is, I think, a lot more streamlined and attractive.
• The header/menu has been fancied up and de-advertised. I'll let you discover the other new thing about it on your own, because I think it's pretty neat.

• I've removed and rearranged a lot of the buttons in the sidebar in order to cut down on Taylor called a "NASCAR effect" on the right side of the page.

• The MySpace and Facebook buttons on the side now link to the Multiplex group for each of those websites, respectively. (If you want to friend me at MySpace or Facebook, you're still welcome to, of course! I just moved those links onto the About page.)

I'm also working with my big brother Lawrence (who has apparently just bought a TV) to add a couple more minor functions to the site in the coming weeks, all aimed at making the website a little cleaner and the comic easier than ever to fall in love with -- and to share with your friends.

Anyway, I hope you dig the new site. Please let me know if you find any bugs or broken links. And, as always, thanks for reading!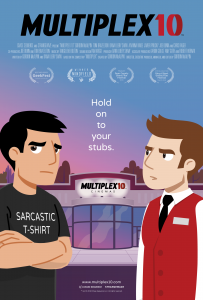 Multiplex 10 is here!
Although Multiplex 10 has ended, an animated prequel/reboot called Multiplex 10 was funded through Kickstarter in 2017 and is NOW AVAILABLE for rent or purchase on Vimeo On Demand, Amazon Video, and elsewhere! And an all-new, irregularly-updated Multiplex 10 web series (set after the short film) recently launched on YouTube! Learn more about the web series on the official Multiplex 10 website!
Stay up to date on all things Multiplex, Multiplex 10 and me (a.k.a. Gordon McAlpin) by subscribing to my newsletter!