Notes from the Manager
It's still February in the Multiplex 10 for this strip.
UPDATE: A couple of kind souls have pointed out how although I (and Neil) thought "That's what she said" came from The Office, it was actually in Wayne's World long before Steve Carell misappropriated it — a movie I've seen, but probably not since it was in theaters (yes, I'm that old). Either way, it wasn't terribly original or clever when either of them did it, which was kind of the point in this strip, too, so I thought I would leave the error in the strip and tack on a couple of extra panels to address the error within the context of the strip... Thanks, Mike and Tank!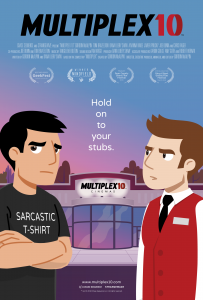 Multiplex 10 is here!
Although Multiplex 10 has ended, an animated prequel/reboot called Multiplex 10 was funded through Kickstarter in 2017 and is NOW AVAILABLE for rent or purchase on Vimeo On Demand, Amazon Video, and elsewhere! And an all-new, irregularly-updated Multiplex 10 web series (set after the short film) recently launched on YouTube! Learn more about the web series on the official Multiplex 10 website!
Stay up to date on all things Multiplex, Multiplex 10 and me (a.k.a. Gordon McAlpin) by subscribing to my newsletter!