Notes from the Manager
Related Strips: #308: Twilight of the Nerds; #339: Must Have the Precious; #340: But It's Mine; #341: The Rules of the Game; #342: Ulterior Motives
Tune in LIVE to the Triple Feature tonight at 9:00 PM Central, to hear Tom, Joe and I shoot the shit about Monsters vs. Aliens and probably some other stuff. If you've always wanted to ask the three of us a question, we regularly answer reader/listener questions on the show — just shoot us an e-mail at group (at) thetriplefeature.com.
If you can't make it for the live recording, don't forget that you can always download the show as a podcast through iTunes — it's free, and believe me, you get what you pay for with the three of us. 100% professionals, we are. ahem
Anyway.
So! We have a bit of a contest — a Multiplex/Night Projectionist Give-away! Those of you who have been paying attention noticed the copy of The Night Projectionst #1 in the last few strips, and writer Robert Heske has been kind enough to sign three copies for me to give to three lucky winners. (You'll also get a free copy of the Multiplex eBook: HD Edition #1 not signed by anybody, but that's really old, so whatever.)
But I couldn't just give it away to three random people, no. Drawing inspiration from today's Multiplex strip, I want you to go to the Multiplex Forum (sign up if you have to) and share the story of your Creepiest Date Ever. You can use the term "creepy" loosely, if you want — just make it an interesting story. The three best stories before NEXT MONDAY will get copies of the comic(s). See additional rules in the forum post.
(If you don't win, don't feel bad — you can still read The Night Projectionist Noir online every week.)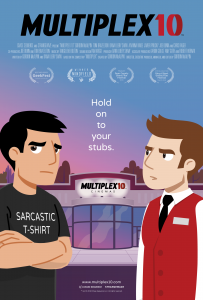 Multiplex 10 is here!
Although Multiplex 10 has ended, an animated prequel/reboot called Multiplex 10 was funded through Kickstarter in 2017 and is NOW AVAILABLE for rent or purchase on Vimeo On Demand, Amazon Video, and elsewhere! And an all-new, irregularly-updated Multiplex 10 web series (set after the short film) recently launched on YouTube! Learn more about the web series on the official Multiplex 10 website!
Stay up to date on all things Multiplex, Multiplex 10 and me (a.k.a. Gordon McAlpin) by subscribing to my newsletter!