Notes from the Manager
Related Strips: #148: Summer Sequel; #149: Be Kind, Rewind; #150: Baby Come Back; #352: A Multiplex Carol; #353: Right Hand Man
Bonus update! See you Monday.
It looks like mentioning my Twitter account the other day reeled in a bunch of new followers. It's not just a stupid way to hear me blather about random things on a semi-regular basis — it's also a way to keep up with the strip, because the Multiplex RSS feed is syndicated in my account! Joy.
UPDATE (5/11): Today's strip is running a bit late, and I'm going cross-eyed from staying up past my bedtime, so I'll have to finish it tomorrow evening.
This strip is probably new to most of you, so whatever, but the intended Monday strip (vaguely related to Star Trek) will show up on Tuesday. The week's second update will still be on Thursday.You can, however, see a non-spoilery panel from #355 in the forum. (I thought it would be cheap to put it up as an incentive, since the strip is late.)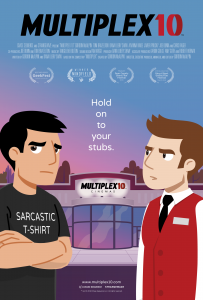 Multiplex 10 is here!
Although Multiplex 10 has ended, an animated prequel/reboot called Multiplex 10 was funded through Kickstarter in 2017 and is NOW AVAILABLE for rent or purchase on Vimeo On Demand, Amazon Video, and elsewhere! And an all-new, irregularly-updated Multiplex 10 web series (set after the short film) recently launched on YouTube! Learn more about the web series on the official Multiplex 10 website!
Stay up to date on all things Multiplex, Multiplex 10 and me (a.k.a. Gordon McAlpin) by subscribing to my newsletter!