Notes from the Manager
In case you're not up on your new movies (or don't live in the States or something), the movie they're watching is Michael Mann's Public Enemies, which stars Johnny Depp as John Dillinger, opposite Christian Bale as Melvin Purvis, the man in charge of the investigation that kind of just killed him instead of actually bothering to bring him to justice. (Oops.)
The use of handheld digital video cameras on Public Enemies has caused something of a movie-geek controversy, in part because some people think it's inappropriate to use digital video on a period film at all (which I think is silly) and in part because some people think the movie looks like shit.
Me, I'll save my comments for Monday, after Lydia and the gang have had a chance to discuss it first, but I will say this: if you don't mind the way it looks, the story is terrific, and the actors are great.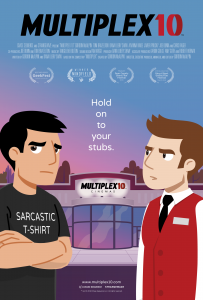 Multiplex 10 is here!
Although Multiplex 10 has ended, an animated prequel/reboot called Multiplex 10 was funded through Kickstarter in 2017 and is NOW AVAILABLE for rent or purchase on Vimeo On Demand, Amazon Video, and elsewhere! And an all-new, irregularly-updated Multiplex 10 web series (set after the short film) recently launched on YouTube! Learn more about the web series on the official Multiplex 10 website!
Stay up to date on all things Multiplex, Multiplex 10 and me (a.k.a. Gordon McAlpin) by subscribing to my newsletter!