Notes from the Manager
Related Strips: #404: Too Much Information; #411: If It's Halloween, It Must Be Saw
Remember! There are three this week. Yes, yes, I know some of you find this stuff boring. Well, tough. It's a necessary scene, and sometimes in movies people need to have a conversation for more than a minute straight. This is the comics equivalent of that.
Don't forget: for every $250 the Kickstarter project raises above $8500, I'll be giving away a free copy of the Multiplex/Memento parody mini-poster and a set of five buttons to one lucky backer.
With the total pledges at just over $9507, that's 4 sets of posters and buttons to give away. If we reach $9750 by Friday, that'll be five sets — but if we reach $10,000, I'll give away ten sets.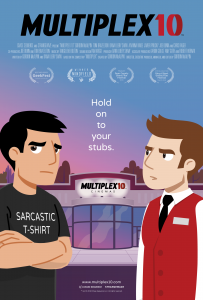 Multiplex 10 is here!
Although Multiplex 10 has ended, an animated prequel/reboot called Multiplex 10 was funded through Kickstarter in 2017 and is NOW AVAILABLE for rent or purchase on Vimeo On Demand, Amazon Video, and elsewhere! And an all-new, irregularly-updated Multiplex 10 web series (set after the short film) recently launched on YouTube! Learn more about the web series on the official Multiplex 10 website!
Stay up to date on all things Multiplex, Multiplex 10 and me (a.k.a. Gordon McAlpin) by subscribing to my newsletter!