Notes from the Manager
Aaaand, that's the end of this arc, more or less. Obviously, things will be followed through with, because we've got a whole lot of comics left in Book 5. :)
I've added a few new prints to the selections, including #100 panel 7 (the Texas Chainsaw Massacre panel) and #355 panel 7 (the popular panel of the girls in their Star Trek uniforms) and large prints of the three classic movie theaters that Jason and Devi have visited in the past. I'm sure the movie theater print will only appeal to a handful of people, but… whatevs. I'm proud of those drawerings.
As always, if there are other panels or strips that you'd like to see prints of, just let me know!
UPDATE: By the way, in case you don't remember Chewie not getting a medal, here's the clip:
And now we know what Chewie's saying just before the credits roll: "Where's my fuckin' medal?!"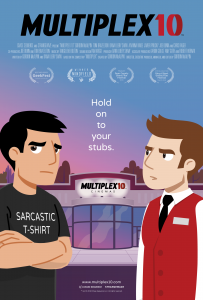 Multiplex 10 is here!
Although Multiplex 10 has ended, an animated prequel/reboot called Multiplex 10 was funded through Kickstarter in 2017 and is NOW AVAILABLE for rent or purchase on Vimeo On Demand, Amazon Video, and elsewhere! And an all-new, irregularly-updated Multiplex 10 web series (set after the short film) recently launched on YouTube! Learn more about the web series on the official Multiplex 10 website!
Stay up to date on all things Multiplex, Multiplex 10 and me (a.k.a. Gordon McAlpin) by subscribing to my newsletter!