Notes from the Manager
Related Strips: #425: A Christmas Miracle; #431: Evil to the Last Drop
I know a few of you are dying to know what's up with Whitey and Ariela, but I had to fit this one in, since it's sort of based on my own experience with this movie. (Those of you who follow me on Twitter or are Facebook friends with me will have already heard me gush about this movie, but… well, whatever.)
After How to Train Your Dragon had been out for a couple of weeks, all the glowing reviews finally got me to check the movie out. It wasn't that I didn't think it would be good; I just didn't expect it to be very good. I mean… it's Dreamworks Animation. I love (and own) Kung Fu Panda, but every other movie of theirs I've seen has just been pretty good — at best — just barely worth watching, nevermind buying on DVD.
To my surprise, I didn't just think How to Train Your Dragon was a good cartoon. I flat-out loved it. Yet to say that How to Train Your Dragon is Dreamworks Animation's best movie doesn't even begin to explain how much I love it. It — like my favorite Pixar movie, The Incredibles; and only a handful of others — is what I consider to be a perfect movie.
The characters are wonderful. The film looks breathtakingly beautiful. The 3D flight sequences are exhilirating. The story has a surprising emotional depth, despite an impressively brisk pace. John Powell's score is both rousing and deeply moving — it's easily my favorite score of the past few years. I rarely see a movie in theaters twice, but I've seen it three times already and have every intention of seeing it at least once more before it leaves theaters.
All three times, tears welled up or full-on streamed down my face at all the same points; my heart burst with joy or sadness at all the right points; and what could only have been the most ridiculous smile ever plastered my face for every other second.
As I've told everyone I've recommended the film to, your mileage may vary — but it's absolutely no exaggeration when I say that How to Train Your Dragon is the most fun I've had at the movies in the past decade. As a proud, jaded 35 year old cynic, I was actually a bit surprised to learn that I'm capable of loving an unabashed children's film as much as I do How to Train Your Dragon, but I guess that's the secret behind HTTYD's magic: it takes me back to when I was a kid like no other movie I've seen since I was a kid.
For the curious, the only other movie I've seen more times in a theater is Braveheart, back in 1995. I saw it five times in the seven months it spent in theaters. (Dragon probably won't make it to three months. The movie theater biz has changed an awful lot in the past 15 years.)
Braveheart hasn't aged as gracefully as other movies in the wave of the action epics it ushered in, but Gibson's most recent directorial effort (Apocalypto) was a lot of fun, so when Mel Gibson comes out with his planned Viking movie, I could be in trouble. (Unless maybe I'm just a big fan of Scottish accents.)
UPDATE: The bad news is, Thursday's comic will be late! Sorry, spent too much time getting the Chapter 5 HD Edition eBook finished. The good news is, the Chapter 5 eBook is finished and available, and for you non-Kickstarter backers, there are six new-to-you strips in it. The free Online Edition will be up in a few days.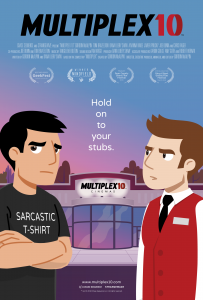 Multiplex 10 is here!
Although Multiplex 10 has ended, an animated prequel/reboot called Multiplex 10 was funded through Kickstarter in 2017 and is NOW AVAILABLE for rent or purchase on Vimeo On Demand, Amazon Video, and elsewhere! And an all-new, irregularly-updated Multiplex 10 web series (set after the short film) recently launched on YouTube! Learn more about the web series on the official Multiplex 10 website!
Stay up to date on all things Multiplex, Multiplex 10 and me (a.k.a. Gordon McAlpin) by subscribing to my newsletter!