Notes from the Manager
Astrid is the name of the girl character from How to Train Your Dragon, which they are, of course, watching. This scene is very early in the movie, and it happened to be the exact moment that I realized, "Yeah, I'm gonna like this. A lot."
If you're not a close follower of what's out at the movie theater, the reason they're not wearing 3-D glasses in this comic (as opposed to all the earlier times Jason has watched it) is that due to the relatively limited number of 3-D capable screens in the country, most — if not all — of the last 3-D screens Dragon was playing on are now showing Dreamworks' other 2010 release, Shrek 4.
Dragon is only in about 800 theaters across the country now, so if you haven't seen it yet, do yourself the favor of seeing it in theaters (and especially in 3-D if you still can).
And just in case you're curious, the movie doesn't have a home video release date yet (although it'll undoubtedly be out by Christmas).
UPDATE: A couple of movie theater workin' readers have pointed out the unlikelihood of How to Train Your Dragon being in a 10-plex at all anymore, and they're right. (How to Train Your Dragon is only in one second-run theater in the Chicago area this week, for example.)
If you're anal and you really want to have the timeline straight, the three-parter at the Hideaway took place two weeks ago, and this strip would have taken place last week. Thursday's strip will get me caught back up to the present day.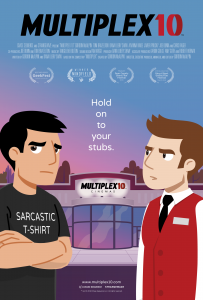 Multiplex 10 is here!
Although Multiplex 10 has ended, an animated prequel/reboot called Multiplex 10 was funded through Kickstarter in 2017 and is NOW AVAILABLE for rent or purchase on Vimeo On Demand, Amazon Video, and elsewhere! And an all-new, irregularly-updated Multiplex 10 web series (set after the short film) recently launched on YouTube! Learn more about the web series on the official Multiplex 10 website!
Stay up to date on all things Multiplex, Multiplex 10 and me (a.k.a. Gordon McAlpin) by subscribing to my newsletter!