Notes from the Manager
This is the first of… three or four, depending on how I end up breaking apart the next few updates.
Splice, for the uninitiated, is the latest film from Cube writer-director Vincenzo Natali. It's been getting some fantastic reviews — and a mess of scathing ones to balance things out a bit. If you've seen the trailer, you're probably expecting an sci-fi-horror/action-thriller like Species.
But where Species was pretty much a crap action movie, it had one thing going for it — Natasha Henstridge naked (and a lot of it); with Splice, there's very little in the way action (or frights) to speak of — despite the trailers, it's going for more of a thinking-man's sci-fi approach — and that's all well and good if you've got a great script like last year's Moon.
Unfortunately, Splice does not — for reasons I'll get into in the next strip, so I won't lay them out here. It's just another "science is bad" tale, but it's neither smart enough or fun enough to pull off that inherently dodgy premise.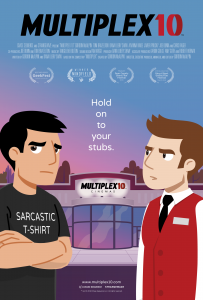 Multiplex 10 is here!
Although Multiplex 10 has ended, an animated prequel/reboot called Multiplex 10 was funded through Kickstarter in 2017 and is NOW AVAILABLE for rent or purchase on Vimeo On Demand, Amazon Video, and elsewhere! And an all-new, irregularly-updated Multiplex 10 web series (set after the short film) recently launched on YouTube! Learn more about the web series on the official Multiplex 10 website!
Stay up to date on all things Multiplex, Multiplex 10 and me (a.k.a. Gordon McAlpin) by subscribing to my newsletter!