Notes from the Manager
Related Strips: #414: A Long Time Coming, Part Three; #456: The Best Laid Plans, Part Three; #475: Average White Band, Part Three
There will be three updates this week — and, like I did on Monday, you can read Friday's comic early by voting at TopWebComics. So vote! Please!
By the way, if you're going to see Toy Story 3 this weekend, you can pre-order tickets via Fandango without a service fee when you use a Visa card to buy your tickets.
. (Disclosure: I am a Fandango affiliate, and I will make a whopping 10¢ from each ticket you purchase via this link, or the one in the right sidebar on the homepage.)
I saw Toy Story 3 at an advanced screening on Monday night, and it was fantastic — a really fun adventure that beautifully ends(?) the series. The use of 3D is really good, but subtle enough that I don't think you'll be missing much if you forego the surcharge. And the short before it, "Night and Day," is one of Pixar's best.
I still think How to Train Your Dragon will get the Best Animated Feature Oscar this year, though. ;)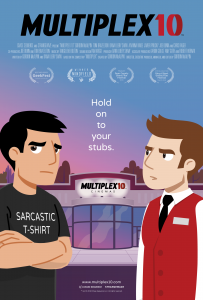 Multiplex 10 is here!
Although Multiplex 10 has ended, an animated prequel/reboot called Multiplex 10 was funded through Kickstarter in 2017 and is NOW AVAILABLE for rent or purchase on Vimeo On Demand, Amazon Video, and elsewhere! And an all-new, irregularly-updated Multiplex 10 web series (set after the short film) recently launched on YouTube! Learn more about the web series on the official Multiplex 10 website!
Stay up to date on all things Multiplex, Multiplex 10 and me (a.k.a. Gordon McAlpin) by subscribing to my newsletter!