Notes from the Manager
Related Strips: #489: Toy Story 2
I apologize to everyone involved with How to Train Your Dragon for this strip.
Thanks again to McFadyn and Jay Fantástico of Louder Than Bombs, for their bit of guest art yesterday. You can find this one over in the Fan Art section now.
Today, no guest strip — but in addition to my own comic, I do have a guest poem by Katie Schenkel:
Multiplex: An Ode
Standing Jason, Sitting Kurt
Their opinions reassert.
Movie news and movie rumors,
Complaining about consumers.
Kurt's a fan of action flicks,
Films with zombies are his picks.
Jason's often hard to please,
Disdain is his expertise.
But you never know what's next
When you work at a Multiplex.
Katie says that was intentionally bad, but I don't believe her. She's also got a movie blog over at JustPlainSomething.com, so you can check that out sometime.

Tomorrow, we'll have yet another guest strip (and at least one more next week, too), but don't forget that I'm still keeping up with my regular updates, as well.
Also happening tomorrow is Multiplex: Enjoy Your Show releasing to the printer! Which just means they'll take a look at it, run out some proofs, and we'll see if any mistakes slipped past me and the proofreaders over these past two weeks before they actually print the thing… but we're getting there!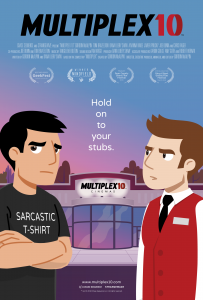 Multiplex 10 is here!
Although Multiplex 10 has ended, an animated prequel/reboot called Multiplex 10 was funded through Kickstarter in 2017 and is NOW AVAILABLE for rent or purchase on Vimeo On Demand, Amazon Video, and elsewhere! And an all-new, irregularly-updated Multiplex 10 web series (set after the short film) recently launched on YouTube! Learn more about the web series on the official Multiplex 10 website!
Stay up to date on all things Multiplex, Multiplex 10 and me (a.k.a. Gordon McAlpin) by subscribing to my newsletter!