Notes from the Manager
Related Strips: #507: Show 'Em Who's Boss
So I guess there are going to be three updates this week. Good thing you subscribe to the RSS feed/check Twitter or Facebook or the site compulsively/have precognitive powers! (Or, y'know, if you see this on Thursday, just know there's gonna be another one on Friday.)
Aaand another Kickstarter backer comic went up yesterday, over at Deleted Scenes. And I'm probably going to post another on Thursday. Five Multiplex comics in one week! How do you like that? And if you like that, a lot, help support the strip. ;) You need more stuff to clutter your house! I can fix that.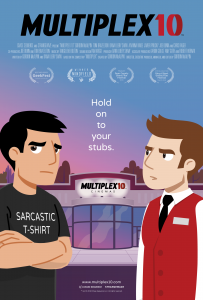 Multiplex 10 is here!
Although Multiplex 10 has ended, an animated prequel/reboot called Multiplex 10 was funded through Kickstarter in 2017 and is NOW AVAILABLE for rent or purchase on Vimeo On Demand, Amazon Video, and elsewhere! And an all-new, irregularly-updated Multiplex 10 web series (set after the short film) recently launched on YouTube! Learn more about the web series on the official Multiplex 10 website!
Stay up to date on all things Multiplex, Multiplex 10 and me (a.k.a. Gordon McAlpin) by subscribing to my newsletter!