Notes from the Manager
Related Strips: #506: Hot and Cold
Here's a little audio aid for this strip, courtesy the real-life Kurt Bollinger [MP3, 1.1mb]. (Thanks, Kurt!)
There will be three strips again this week. On Wednesday, we'll say goodbye to Dominic forever (probably), and then on Friday, we'll get back to the Multiplex 10 and stay there for a while. I think.
Don't forget — if you're in the Chicago area, the Multiplex: Enjoy Your Show book release party/signing/whatever will be at Third Coast Comics this Friday Saturday from 4–7pm, followed by the monthly Chicago Comic Book Meetup, where I'll be a special guest. Stop in, get a copy of the book early, and have a good time!
We're getting closer to the $5000 goal… buuut it's not looking so good for the Multiplex Sales Drive, sad to say. Have we pre-sold all the books we're gonna pre-sell?!
Let's see if we can't try to get closer, anyway. There are TWO T-shirt designs new to the Multiplex Store you should check out. One is a handful of extra Multiplex/Breakfast Club T-shirts left over from the Kickstarter rewards — and the other is a "Michael Bay is the Devil" T-shirt (referencing not only the common Bay-hater refrain, but Jason's opinion from #369 and one of the Book 1 bonus comics).
HOWEVER. The Michael Bay T-shirt is only up for PRE-ORDER at this time and will ONLY be printed if I get 25 pre-orders by October 4th. Vote with your pocketbook, if you want to see these babies come into existence!
(If you've already ordered something and want to add either shirt to your order, e-mail me. In the US, it may not save you much, because books ship separately from T-shirts, but it can't hurt to check.)
EDIT: Oh, and I almost forgot to mention. The logo on Whitey's T-shirt in the strip is an unpaid, wholehearted endorsement of ibuymusic.net. Check out their website, and please support them and their positive efforts to help keep the artists you love working on the music you love.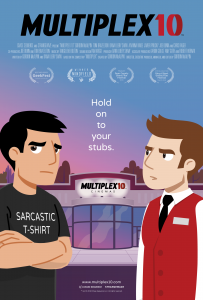 Multiplex 10 is here!
Although Multiplex 10 has ended, an animated prequel/reboot called Multiplex 10 was funded through Kickstarter in 2017 and is NOW AVAILABLE for rent or purchase on Vimeo On Demand, Amazon Video, and elsewhere! And an all-new, irregularly-updated Multiplex 10 web series (set after the short film) recently launched on YouTube! Learn more about the web series on the official Multiplex 10 website!
Stay up to date on all things Multiplex, Multiplex 10 and me (a.k.a. Gordon McAlpin) by subscribing to my newsletter!