Notes from the Manager
Related Strips: #512: Say It, Don't Spray It
Thank you to everybody who made the Multiplex: Enjoy Your Show release party at Third Coast Comics a great time!
Before Thursday rolls around, the book will be officially on sale, but books are actually already shipping! The last batch of Kickstarter books (and some pre-orders) will be shipping TODAY.
Today and tomorrow, I'll be working on getting all of the Artist's Edition sketches drawn (I will probably share a couple of them with you at the Deleted Scenes blog, since I haven't had time to draw or write anything else in the past week to make it more interesting over there).
I hope to get the promised Black Dynamite review and a review of The Town up over there this week, so keep checking back. Short version of The Town: it's a terrific crime flick. Less heavy or thought-provoking than Gone Baby Gone by far, but smart, funny, and very, very tense in spots, with three great robberies anchoring the film.
Pre-orders for the Michael Bay is the Devil T-shirt are still going! We are about 10 shirts shy of printing up the shirts — so it's moving along, but it's not a sure thing yet. If we don't get them by October 4th, I'll be forced to cancel the orders and refund everybody. And that would make me sad, because I totally want one of these, too.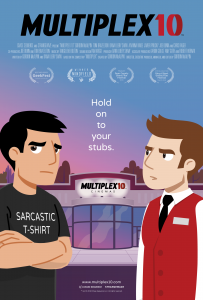 Multiplex 10 is here!
Although Multiplex 10 has ended, an animated prequel/reboot called Multiplex 10 was funded through Kickstarter in 2017 and is NOW AVAILABLE for rent or purchase on Vimeo On Demand, Amazon Video, and elsewhere! And an all-new, irregularly-updated Multiplex 10 web series (set after the short film) recently launched on YouTube! Learn more about the web series on the official Multiplex 10 website!
Stay up to date on all things Multiplex, Multiplex 10 and me (a.k.a. Gordon McAlpin) by subscribing to my newsletter!