Notes from the Manager
Related Strips: #420: Hugs; #552: Screen Play
Thanks to everyone who came out to see me and Justin on Saturday!
Also: the page I did for Steve Horton's Spinning to Infinity is up, for those of you who like to see my hand-drawn comics. I was really happy with out the art turned out on this one (I'm enormously self-critical when it comes to my hand-drawn stuff). Thanks are due to TJ Kirsch for the Archie-inspired coloring!
If you're unfamiliar with Spinning, it's a sort-of anthology comic, where each page is done in one, but loosely connected by a theme. I believe that it's all heading somewhere, but only Steve knows! He's had some amazing, amazing artists do pages for it, and there are a lot more coming up soon, bookmark that shiz.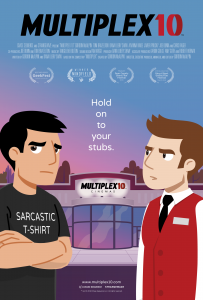 Multiplex 10 is here!
Although Multiplex 10 has ended, an animated prequel/reboot called Multiplex 10 was funded through Kickstarter in 2017 and is NOW AVAILABLE for rent or purchase on Vimeo On Demand, Amazon Video, and elsewhere! And an all-new, irregularly-updated Multiplex 10 web series (set after the short film) recently launched on YouTube! Learn more about the web series on the official Multiplex 10 website!
Stay up to date on all things Multiplex, Multiplex 10 and me (a.k.a. Gordon McAlpin) by subscribing to my newsletter!