Notes from the Manager
Related Strips: #565: What Price Victory?; #566: Do the Right Thing, Part One; #567: Do the Right Thing, Part Two; #568: In the Gay Way
I guess I lied. I had two loose ends I wanted to tie up for Book 5 — but these are more of an epilogue sort of thing, really. #606 was the real ending, really.
Some of you may notice the font for the title and the majority of the site's headlines and such is a little tiny bit different. If your browser supports it, you're seeing Museo Sans instead of Helvetica or Verdiana or whatever abomination of typography you're used to seeing — this matches the design of the book more closely now.
If you're not seeing it, or you're having issues with the site running slowly (or slower than usual, anyway), feel free to shoot me an e-mail with your system and browser's details.
I've been wanting to try web fonts for a while, but could never figure it out. I found Font Squirrel's @font-face generator, though, which has finally made them something I could understand — so, I wanted to give them a little endorsement here. If you want to add some snazzy type to your site, have a TINY bit of coding skills, but don't want to pay a monthly fee like with TypeKit, check it out.
Anyway! As of yesterday, Multiplex turned 6, but apparently you guys have been celebrating in the comments for #606 all weekend, and you've all been incredibly kind. Thanks so much for your comments. It means a great deal to me that anybody besides myself would find this comic strip interesting.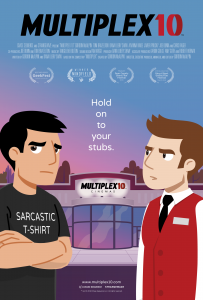 Multiplex 10 is here!
Although Multiplex 10 has ended, an animated prequel/reboot called Multiplex 10 was funded through Kickstarter in 2017 and is NOW AVAILABLE for rent or purchase on Vimeo On Demand, Amazon Video, and elsewhere! And an all-new, irregularly-updated Multiplex 10 web series (set after the short film) recently launched on YouTube! Learn more about the web series on the official Multiplex 10 website!
Stay up to date on all things Multiplex, Multiplex 10 and me (a.k.a. Gordon McAlpin) by subscribing to my newsletter!