Notes from the Manager
Related Strips: #593: Accidents Will Happen; #606: Theatrics
Slowly getting back on track after the move (and Chicago Comic Con)…
If you didn't know there was a remake of Fright Night out this weekend you can watch it below:
I think looks surprisingly great: a strong cast, a solid-looking story, and crossbows — not to mention the fact that it's Craig Gillespie's follow-up to Lars & the Real Girl (which I absolutely love). Dr. Who fans will also be delighted to hear that while David Tennant is pretty scarce in the trailer, he wears leather pants in the film and apparently steals every scene he's in.
So are you going to check out Fright Night this weekend, or Conan the Barbarian, or Spy Kids 4 (yeah right), or something else entirely?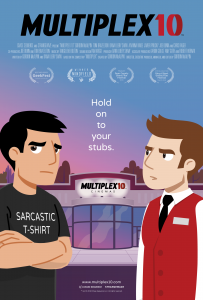 Multiplex 10 is here!
Although Multiplex 10 has ended, an animated prequel/reboot called Multiplex 10 was funded through Kickstarter in 2017 and is NOW AVAILABLE for rent or purchase on Vimeo On Demand, Amazon Video, and elsewhere! And an all-new, irregularly-updated Multiplex 10 web series (set after the short film) recently launched on YouTube! Learn more about the web series on the official Multiplex 10 website!
Stay up to date on all things Multiplex, Multiplex 10 and me (a.k.a. Gordon McAlpin) by subscribing to my newsletter!