Notes from the Manager
Related Strips: #610: Gods and Monster Movies; #611: Fear Pressure; #619: Jackpot; #623: If It Looks Like the Living Dead and Acts Like the Living Dead…; #626: Special Affects
I sure hope all this set-up isn't boring, but it's pretty necessary.
Those of you who don't pay attention to the Deleted Scenes blog might check out the latest post, about the revised Chapter 1–5 eBooks, which are now available at the Multiplex Store, and the Chapter 6 eBook, which is now available for pre-order. (It will be finished within a month, for certain, hopefully in the next few weeks.)
I go into this in a little more depth in the blog post, but supporting the Chapter eBooks is the single best way to help me get the bonus comics for the Book 2 print collection finished — and they're only $1.49! If you want Book 2 to see the light of day, think of each of these Chapter eBooks as a mini-Kickstarter. This is the best way — right now — to support the production of the next book.
Don't forget that you can always commission illustrations (hand-drawn or vector) through the Multiplex Store, too!
Why wait until I do a Kickstarter project, when you can get pretty much all the same "rewards" already — and for less money?!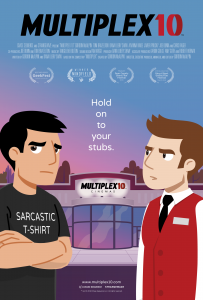 Multiplex 10 is here!
Although Multiplex 10 has ended, an animated prequel/reboot called Multiplex 10 was funded through Kickstarter in 2017 and is NOW AVAILABLE for rent or purchase on Vimeo On Demand, Amazon Video, and elsewhere! And an all-new, irregularly-updated Multiplex 10 web series (set after the short film) recently launched on YouTube! Learn more about the web series on the official Multiplex 10 website!
Stay up to date on all things Multiplex, Multiplex 10 and me (a.k.a. Gordon McAlpin) by subscribing to my newsletter!