Notes from the Manager
Related Strips: #622: Everyday All Day; #628: Script Issues; #629: The Enemy of My Enemy Is My Friend
You've probably heard about this by now, but less than a month after Netflix announced it's (stupid) idea to split Netflix into two separate websites (and divisions), with "Qwikster" as the umbrella for its DVD offerings, they've backpedaled.
And, like before, they announced it in a blog post. Brilliant. While there's some merit to realizing when you've made a bad decision, the split was never a good idea and all three of these major announcements has been handled incredibly poorly. (Trying to pass off the price hike as a good thing was pretty insulting, I thought.) This whole thing is a PR nightmare that just won't end for them, and Reed Hastings is basically making himself look like a fucking idiot. It's pretty likely he's going to idiot himself out of a job soon, too, if their board of directors has been paying attention to the stock price…
Now, I'm a die-hard movie geek, and I think their streaming offerings and DVD offerings are still worth the higher price, so I'm still with them, but my faith in the company is pretty damned low at this point. (Full disclosure: I canceled my disc service when they announced the split and then reinstated it after they backpedaled.)
How about you? Are you still with Netflix, or have you abandoned ship already — after the price hike or the Qwikster announcement, or after this…?
UNRELATED NOTE: The comments section no longer requires a login — but I will be moderating with an iron fist, just as before. No douchebaggery allowed.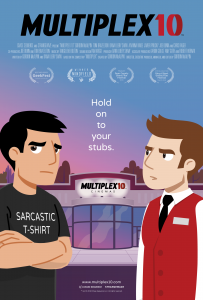 Multiplex 10 is here!
Although Multiplex 10 has ended, an animated prequel/reboot called Multiplex 10 was funded through Kickstarter in 2017 and is NOW AVAILABLE for rent or purchase on Vimeo On Demand, Amazon Video, and elsewhere! And an all-new, irregularly-updated Multiplex 10 web series (set after the short film) recently launched on YouTube! Learn more about the web series on the official Multiplex 10 website!
Stay up to date on all things Multiplex, Multiplex 10 and me (a.k.a. Gordon McAlpin) by subscribing to my newsletter!