Notes from the Manager
Related Strips: #729: Strength in Numbers
With the Chapter 9 eBook out now, I'm in the home stretch for the new material in Multiplex: There and Back Again (Book 2), but I am behind schedule. I hadn't counted on the hand-drawn movie arc going quite this long or taking as much time as it has to draw each strip (it's a bit longer than the vector stuff, most of the time).

With grad school approaching fast (in September), there's a chance it'll affect the publication date, unfortunately, and there's a chance that I'll need to shift some things around with the regular strip, as well — like switch to a Monday/Friday update schedule or something — in order to accommodate my class schedule.
I hope to be able to keep up with the regular twice a week schedule, though. Multiplex is (tentatively) mapped out as a nine volume series, and this is Book Six, obviously, so I'll be doing a large chunk of these last three books while attending getting my MFA. It's gonna be rough. Please bear with me in the next couple of months as I figure out how it's all going to work!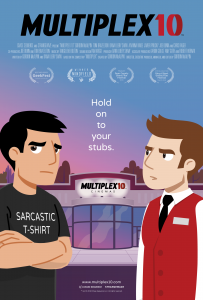 Multiplex 10 is here!
Although Multiplex 10 has ended, an animated prequel/reboot called Multiplex 10 was funded through Kickstarter in 2017 and is NOW AVAILABLE for rent or purchase on Vimeo On Demand, Amazon Video, and elsewhere! And an all-new, irregularly-updated Multiplex 10 web series (set after the short film) recently launched on YouTube! Learn more about the web series on the official Multiplex 10 website!
Stay up to date on all things Multiplex, Multiplex 10 and me (a.k.a. Gordon McAlpin) by subscribing to my newsletter!