Notes from the Manager
So the Brandon Routh story here is four years old, but it's one of the things that first drove me nuts about movie news sites and inspired me to make Movie Make-out a (short-lived) reality. The gist: Latino Review "broke" the story that Brandon Routh was out as Superman from whatever the next Superman movie was going to be.
Obviously, that came to pass, but it was bullshit at the time, and circumstances changing after the fact do not, in fact, turn bullshit into gold. The trouble is, the rumor-mongers who cast out about a thousand unsourced (or anonymously sourced) "scoops" without confirming them rely on the perception that if they're the first one to say something and it actually happens, that makes it retroactively appear to be true. It gives them credibility. It gets them readers. Which gets them ad revenue.
What this same sad, rumor-mongering excuse for a movie news site is saying about Harrison Ford and Episode VII today is that "the deal is done" for him to be in Episode VII. USA Today is parroting it. All the news sites are parroting it. Because it's linkbait gold. But I'm calling bullshit. Maybe Ford is in talks; I'd be surprised if he wasn't, if Solo is in Michael Arndt's already-written outline for the film. But is the deal "done"? I'm not buying it. Not from that website.
UPDATE (2/20): Confirmed false by Mark Hamill: "I can tell you right away that we haven't signed any contracts."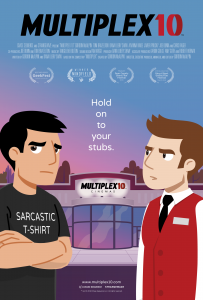 Multiplex 10 is here!
Although Multiplex 10 has ended, an animated prequel/reboot called Multiplex 10 was funded through Kickstarter in 2017 and is NOW AVAILABLE for rent or purchase on Vimeo On Demand, Amazon Video, and elsewhere! And an all-new, irregularly-updated Multiplex 10 web series (set after the short film) recently launched on YouTube! Learn more about the web series on the official Multiplex 10 website!
Stay up to date on all things Multiplex, Multiplex 10 and me (a.k.a. Gordon McAlpin) by subscribing to my newsletter!