Notes from the Manager
Related Strips: #561: A Night in the Patio, Part One; #562: A Night in the Patio, Part Two; #563: A Night in the Patio, Part Three; #564: A Night in the Patio, Part Four
Here's the trailer for Tales of the Night, the Michel Ocelot film that Jason mentions:
You can get links to the trailers for the other films, including The Warriors, via at the Patio Theater Events page.
You can read more about the partnership between the Patio and the Chicago Cinema Society at DNAinfo.com. Short version, they're helping bring a broader range of programming to the Patio, which has been mainly a second run (or late first run) theater since it reopened. This makes the Patio much more of a "destination" theater than it was before, I think, and should therefore expand its customer base farther outside of Portage Park than it had been before.
This strip isn't just Chicago movie theater news wankery, though; without getting into spoilers, you can probably imagine how — given Multiplex's new focus on the cast as movie theater managers — this is… relevant.
EDIT: Oh, and Odd Obsession is an independently owned and run Chicago video store that specializes in hard to find movies of all kinds. If you're a movie buff in the Chicago area, do yourself a favor and check it out.
See you Monday!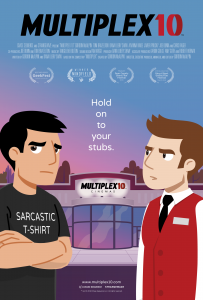 Multiplex 10 is here!
Although Multiplex 10 has ended, an animated prequel/reboot called Multiplex 10 was funded through Kickstarter in 2017 and is NOW AVAILABLE for rent or purchase on Vimeo On Demand, Amazon Video, and elsewhere! And an all-new, irregularly-updated Multiplex 10 web series (set after the short film) recently launched on YouTube! Learn more about the web series on the official Multiplex 10 website!
Stay up to date on all things Multiplex, Multiplex 10 and me (a.k.a. Gordon McAlpin) by subscribing to my newsletter!