Notes from the Manager
…So no, they're not in costumes in the theater. I thought they gray text was a giveaway there: I've used that to indicate voices from phones, radios, or theater speakers since forever!
Jason and Kurt's promo for The Princess Bride concludes on Friday. See you then!
And then I'll be on summer break, having finally wrapped up my first year of grad school and my first semester of teaching my own drawing class (as a graduate instructor in grad school). Fun times. I'll need to relax for a few days and then I can get cranking on Book 2, Kickstarter rewards for Book 2, and maybe some bonus comics for Book 3. But I'm getting ahead of myself, there.
Incidentally, the title comes from a line I cut for space. I wanted to have Jason/"Inigo" ask the Man in Black if he had seen The Princess Bride, to which he would reply with that line, which is straight from this scene. Maybe in the Director's Cut of Book 7.
You can watch the original scene below: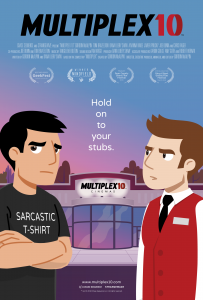 Multiplex 10 is here!
Although Multiplex 10 has ended, an animated prequel/reboot called Multiplex 10 was funded through Kickstarter in 2017 and is NOW AVAILABLE for rent or purchase on Vimeo On Demand, Amazon Video, and elsewhere! And an all-new, irregularly-updated Multiplex 10 web series (set after the short film) recently launched on YouTube! Learn more about the web series on the official Multiplex 10 website!
Stay up to date on all things Multiplex, Multiplex 10 and me (a.k.a. Gordon McAlpin) by subscribing to my newsletter!