Notes from the Manager
Related Strips: #820: Moving On
I lied last week, I guess. This is sort of an epilogue to the last arc and a hint at Things To Come.
This is the first time it's been mentioned in the strip, but those of you who pay attention to the Cast pages know that Feature Cinemas is the chain the Multiplex 10 belongs to. We'll be meeting a lot more people from other theaters (and home office) in Book Seven.
See you later this week! I'm a little tied up with my summer assistantship to do three this week, I think — and I really need to finish off Book Two, which is so far behind schedule I hate myself. So it'll probably be Thursday. Anyway, we'll check back in with Kurt and Jason's film series then.
UPDATE (7/3): With the upcoming iPhone app including Notes from the Managers, as well, I thought I should try to keep them a little more strip-centric from now on, so I've moved some paragraphs about my Amazon.com affiliate link woes over to a Deleted Scenes post. If you don't get those in your RSS feed, update your address to the current Multiplex Complete RSS feed address!
For you website visitors (thank you for the ad revenue!), you'll still be able to see me talk about irrelevant shit like that in Deleted Scenes posts right here on the front page of the website — it'll just be a few inches lower: I've added the most recent Deleted Scenes post to the homepage, as well. (I've wanted to do that forever, but only recently learned how I could force the movie trailer embeds to fit within the smaller space on the homepage and not break the layout. Hooray for learning.)
The archive pages will still just have headlines, because I don't like to slow down the page load times for you guys who go on long archive binges.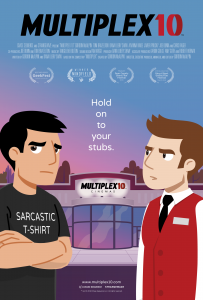 Multiplex 10 is here!
Although Multiplex 10 has ended, an animated prequel/reboot called Multiplex 10 was funded through Kickstarter in 2017 and is NOW AVAILABLE for rent or purchase on Vimeo On Demand, Amazon Video, and elsewhere! And an all-new, irregularly-updated Multiplex 10 web series (set after the short film) recently launched on YouTube! Learn more about the web series on the official Multiplex 10 website!
Stay up to date on all things Multiplex, Multiplex 10 and me (a.k.a. Gordon McAlpin) by subscribing to my newsletter!