Notes from the Manager
Related Strips: #820: Moving On; #823: Just a Thought; #827: Go Cry on Somebody Else's Shoulder
In under the wire for Friday! (At least in my time zone.)
Sorry about the delayed second update this week; I moved (from Minneapolis to Saint Paul) this week, and dealing with all of the aspects of that was even more time consuming (and exhausting) than I had expected.
As you can see from the boxes in panel 1, Becky also moved recently (or is in the process of it). Fortunately, she only owned a bed, a dresser and a bunch of books, so she could fit into Jason's smallish apartment easily.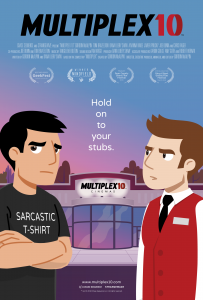 Multiplex 10 is here!
Although Multiplex 10 has ended, an animated prequel/reboot called Multiplex 10 was funded through Kickstarter in 2017 and is NOW AVAILABLE for rent or purchase on Vimeo On Demand, Amazon Video, and elsewhere! And an all-new, irregularly-updated Multiplex 10 web series (set after the short film) recently launched on YouTube! Learn more about the web series on the official Multiplex 10 website!
Stay up to date on all things Multiplex, Multiplex 10 and me (a.k.a. Gordon McAlpin) by subscribing to my newsletter!