Notes from the Manager
Related Strips: #465: Pretty Good Bet; #466: Flattery Will Get You Everywhere
Another sort-of-related strip would be #207½ ("Just Press Play") from the Chapter 10 eBook (and Book Two). Becky and Franklin never spent a lot of screen time together, but since they're both projectionists and debatably the two most book-smart characters in the comic (Becky being a science nerd and Franklin being a programmer), I've always felt they would have had a solid rapport.
This strip takes its title from the Yasujiro Ozu film of the same name, one of my favorite directors, whose work is very often imbued with melancholy. (It's not one of my favorites, but the title fit. The film's plot has nothing to do with anything, though)
Just saying this now: Monday's comic will be up in the afternoon/early evening, most likely, as I'm going to be away from a proper computer most of the weekend.
We'll have at least one more strip on Becky's last day next week. I'll see you then!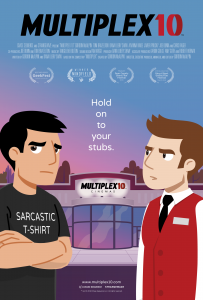 Multiplex 10 is here!
Although Multiplex 10 has ended, an animated prequel/reboot called Multiplex 10 was funded through Kickstarter in 2017 and is NOW AVAILABLE for rent or purchase on Vimeo On Demand, Amazon Video, and elsewhere! And an all-new, irregularly-updated Multiplex 10 web series (set after the short film) recently launched on YouTube! Learn more about the web series on the official Multiplex 10 website!
Stay up to date on all things Multiplex, Multiplex 10 and me (a.k.a. Gordon McAlpin) by subscribing to my newsletter!