Notes from the Manager
Related Strips: #872: The Dork World
A little late, but this is as close to a Christmas strip as I'm getting this year. There will be a little more related to the films series before this chapter wraps up. It's running a little longer than planned — obviously, since the strip is meant to be set in real time. But I'll get caught up.
FYI, the dialogue in their promo is verbatim from Gremlins this time.
Just as a heads up for those of you who (like many people) weren't on the Internet over the holidays, I've launched a Patreon project to (1) get rid of the ads, and probably more interestingly for you, (2) give you more fun stuff to enjoy. 50 people have signed up to support the strip already, and I hope you consider joining them. Check out the Patreon page to watch Jason explain a little more about it!
In case you've already checked it out, another heads up: as of today, Patreon now takes PayPal!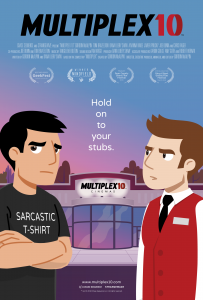 Multiplex 10 is here!
Although Multiplex 10 has ended, an animated prequel/reboot called Multiplex 10 was funded through Kickstarter in 2017 and is NOW AVAILABLE for rent or purchase on Vimeo On Demand, Amazon Video, and elsewhere! And an all-new, irregularly-updated Multiplex 10 web series (set after the short film) recently launched on YouTube! Learn more about the web series on the official Multiplex 10 website!
Stay up to date on all things Multiplex, Multiplex 10 and me (a.k.a. Gordon McAlpin) by subscribing to my newsletter!