Notes from the Manager
Thanks to Mike Norton (illustrator of a billion comics, including Battlepug and Image Comics's excellent Revival), for the okay to use the Revival logo on Red's T-shirt. My buddy Sean Dove also designs the Revival books, and you should check out his stuff, too.
Sorry for the late update, but I was getting the vast majority of the Kickstarter books shipped out. In case you didn't notice, Multiplex: There and Back Again is now available for PRE-ORDER — which means if you order it now, I'll do my best to make sure it's in your greasy little hands the week of March 17th (if not sooner). At least if you're in the US. International shipping is, sadly, ridiculously expensive and unpredictable date-wise.
And the Jason workplace poster is available for pre-order, too!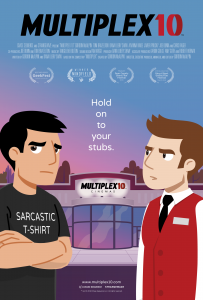 Multiplex 10 is here!
Although Multiplex 10 has ended, an animated prequel/reboot called Multiplex 10 was funded through Kickstarter in 2017 and is NOW AVAILABLE for rent or purchase on Vimeo On Demand, Amazon Video, and elsewhere! And an all-new, irregularly-updated Multiplex 10 web series (set after the short film) recently launched on YouTube! Learn more about the web series on the official Multiplex 10 website!
Stay up to date on all things Multiplex, Multiplex 10 and me (a.k.a. Gordon McAlpin) by subscribing to my newsletter!