Notes from the Manager
Related Strips: #886: The Miner; #890: Old, Familiar Faces
For those of you who don't pay attention to the Deleted Scenes blog (i.e. those of you who read using the Multiplex app for iPhone and iPod touch), thanks to the Patreon backers passing the $600/month Milestone Goal, the Multiplex website is now completely ad-free and reader supported.
That means I can fill up the full width of the site with the comic, and I've made all of Chapter 34 to date 900px wide. That's 25% bigger! Since the iOS app uses the same images, this means the strip images in the app are 25% bigger, too. So if you love the Multiplex app, consider tossing us a few bucks a month via Patreon. (The $99/year iOS Developer Program fee keeps it in the App Store, and it's one of the many costs of doing Multiplex.)
My programmer (Daniel Farrelly) and I are working on more improvements to the website — including a new, responsive layout (that will look more or less like this one, but… bigger) and retina-friendly graphics. Stay tuned for news about that!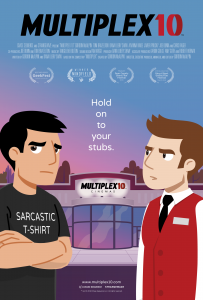 Multiplex 10 is here!
Although Multiplex 10 has ended, an animated prequel/reboot called Multiplex 10 was funded through Kickstarter in 2017 and is NOW AVAILABLE for rent or purchase on Vimeo On Demand, Amazon Video, and elsewhere! And an all-new, irregularly-updated Multiplex 10 web series (set after the short film) recently launched on YouTube! Learn more about the web series on the official Multiplex 10 website!
Stay up to date on all things Multiplex, Multiplex 10 and me (a.k.a. Gordon McAlpin) by subscribing to my newsletter!