Notes from the Manager
Related Strips: #911: Diminishing Returns
(Jason's face in the last panel is what non-comics-reading friends of webcartoonists look like when we ask if they've read our comic.)
I haven't watched much of the Riders of Berk TV series, myself. There are some interesting plots here and there, but the writing is mostly standard children's TV fluff. It isn't awful; I just have better things to do with my time.
The second update for the week will be late, again. My 35-page paper on the 1927 movie theater labor disputes in Minneapolis is done, and now I have a video project to do… But as I've said before, I'll get caught up!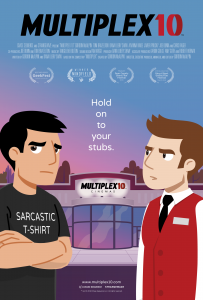 Multiplex 10 is here!
Although Multiplex 10 has ended, an animated prequel/reboot called Multiplex 10 was funded through Kickstarter in 2017 and is NOW AVAILABLE for rent or purchase on Vimeo On Demand, Amazon Video, and elsewhere! And an all-new, irregularly-updated Multiplex 10 web series (set after the short film) recently launched on YouTube! Learn more about the web series on the official Multiplex 10 website!
Stay up to date on all things Multiplex, Multiplex 10 and me (a.k.a. Gordon McAlpin) by subscribing to my newsletter!