Notes from the Manager
Related Strips: #1039: The Negotiator; #1040: Pay It Forward; #1041: Never Back Down; #1042: You're in Good Hands; #1043: Patron of the Arts
If any you can figure out the movie reference in the title, you get a gold star. And if you get that, I'm sorry.
There will be FIVE strips this week! It will be either two regular updates and three Michael Bay movie review strips or three regular updates and two movie review strips. I don't know yet! (I figured it out.)
The Multiplex: The Revenge Kickstarter Project has ended successfully, thanks to 442 backers! Quite honestly, about a week ago, I was on the verge of cancelling it, because it seemed impossible to make up the difference in so little time. Thank you so, so much to everyone who pledged or shared the project with anyone. I could not have done it without you.
I've talked a bit about the next steps for the Kickstarter project over in the project updates, so I won't rehash that here. But I will have some news in the very near future about how people who couldn't pledge to the Kickstarter can still help support the book series and pre-order a copy of Book Three!
While Book Three is totally covered at this point, having some additional funds raised will help me pay for a second printing of Multiplex: Enjoy Your Show and allow me to continue working on Book Four when I'm finished fulfilling Book Three. So the funds will get put to good use!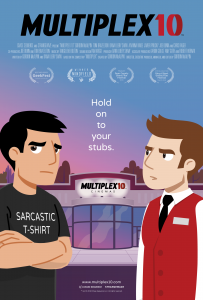 Multiplex 10 is here!
Although Multiplex 10 has ended, an animated prequel/reboot called Multiplex 10 was funded through Kickstarter in 2017 and is NOW AVAILABLE for rent or purchase on Vimeo On Demand, Amazon Video, and elsewhere! And an all-new, irregularly-updated Multiplex 10 web series (set after the short film) recently launched on YouTube! Learn more about the web series on the official Multiplex 10 website!
Stay up to date on all things Multiplex, Multiplex 10 and me (a.k.a. Gordon McAlpin) by subscribing to my newsletter!