Notes from the Manager
The name of this strip is from a song by M. Ward, which you can hear in its entirety on his official MySpace page. It's also available as one of the twelve tracks on a new iMix I've made available through iTunes: Multiplex: The Soundtrack.
It's chock full of melancholy indie rocky goodness -- meaning this mix reflects Becky's taste in music, mainly. Let me know what you think! (And, don't forget you can get the official Multiplex theme song in the Extras section.)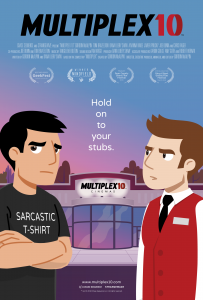 Multiplex 10 is here!
Although Multiplex 10 has ended, an animated prequel/reboot called Multiplex 10 was funded through Kickstarter in 2017 and is NOW AVAILABLE for rent or purchase on Vimeo On Demand, Amazon Video, and elsewhere! And an all-new, irregularly-updated Multiplex 10 web series (set after the short film) recently launched on YouTube! Learn more about the web series on the official Multiplex 10 website!
Stay up to date on all things Multiplex, Multiplex 10 and me (a.k.a. Gordon McAlpin) by subscribing to my newsletter!