Notes from the Manager
No, I don't think Spider-Man 3 "sucks," unlike a lot of excessively vocal, whiny fanboys on the interweb. Although there are several really stupid plot points that drag down the movie for me, it was definitely fun to watch: the action is phenomenal, and most of the cheesy stuff is flat-out hilarious (I actually loved the widely-reviled Saturday Night Fever sequence). I only mention this, because every so often, I'll get an e-mail from a reader that forces me to explain (yet again) that my characters are not mouthpieces for my own opinions — even Jason, who does admittedly parrot my own opinions of movies most often, but still not all the time....
Anyway.
For more of my actual thoughts on Spidey 3, download the latest episode of The Triple Feature Talkcast, featuring myself, Tom Brazelton (Theater Hopper) and Joe Dunn (Joe Loves Crappy Movies)! This one is especially fun, because of all the back-and-forth between us. For once, none of us agreed on a movie! Joe loved it; Tom hated it; and I fell somewhere in the middle, though I definitely leaned more towards the "loved it" end of things than the "hated it" end....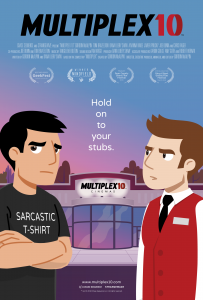 Multiplex 10 is here!
Although Multiplex 10 has ended, an animated prequel/reboot called Multiplex 10 was funded through Kickstarter in 2017 and is NOW AVAILABLE for rent or purchase on Vimeo On Demand, Amazon Video, and elsewhere! And an all-new, irregularly-updated Multiplex 10 web series (set after the short film) recently launched on YouTube! Learn more about the web series on the official Multiplex 10 website!
Stay up to date on all things Multiplex, Multiplex 10 and me (a.k.a. Gordon McAlpin) by subscribing to my newsletter!